I had the pleasure of meeting Robbie Hyman and Doug Murri at the annual APEX meeting in Seattle and then reconnecting with them at the APEX Technical Committee meeting hosted by Disney. I have found both of them to be extremely amicable and knowledgeable.
In case you aren't very familiar with Row44, it offers connectivity via Ku-band satellite technology. Since it is satellite based, Row44 offers worldwide coverage. There are two announced customers that have signed up for Row44 - Southwest Airlines and Norwegian Air Shuttle. Though, I'm hearing rumblings of more to come.
I want to share a few things that I've learned from my discussions with Robbie and Doug.
Row44 does not disintermediate the airline (I get paid by the syllable)
In stark contrast to Gogo, who sells directly to passengers, Row44 offers private label portals. Let me explain why that matters. When I board a Gogo flight, I interact with the Gogo brand. The airline brand is removed from the equation. I become a Gogo customer. However, when I board a Row44 flight such as Southwest, I remain a customer of the airline. The portal and experience is branded for the airline. So the airline brand is not removed, or disintermediated (more syllables, cha-ching!).
Self-effacing employees
Maybe it's just the philosopher in me, but there are certain elements or principles that I believe make great companies. One of those principles is self-effacing or modest employees. I like to see leaders that look outside themselves to give credit for achievements and look inside themselves to assign blame. I can't speak for the entire Row44 team, but Doug and Robbie certainly are two of the best I've met at being modest. Both are reserved but are certainly equipped with knowledge and experience.
Row44 is a broadband entertainment platform
I have heard Row44 talk about "walled gardens" for several years now. However, the Row44 team is taking it to the next level. They have deals with Disney, Warner Bros., Universal and Fox to provide streaming content to Wi-Fi enabled devices. Passengers can also stream IPTV and content from CNBC, FOX News Channel and NBC Sports. Though, due to security concerns, the studios are not allowing streaming early window content.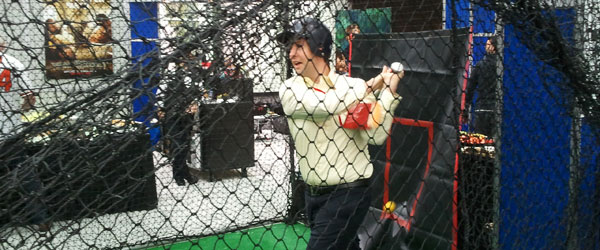 Also, an attitude of entertainment comes across in Row44′s event marketing. For example, the company had a batting cage at the APEX event in Seattle (that's me in the picture beating a co-worker). Doug and Robbie also hosted audience polls for prizes and blue Row44 cookies at the recent APEX tech meeting (my daughters say thanks for the cookies).
If you'd like to learn more about Row44, you can visit www.Row44.com.