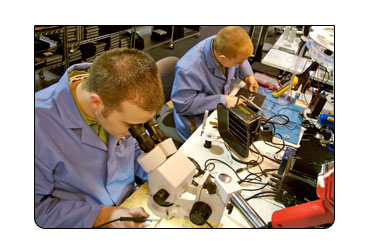 Repair Services
Through our own repair facilities and through partnerships, we offer repair services for many product types including portable media player repairs, DVD player repairs, IFE backlight repairs, and replacement FAA approved IFE cable assemblies.
Our repair technicians have years of experience in diagnosing and repairing electronic devices. Our repair facilities are ESD safe and climate controlled.
If you have costly repairs or high maintenance costs, we can work with you to find a way to reduce those costs through our repair services or our engineering services.
For equipment attached to the aircraft, repairs must be performed by an FAA approved facility. We focus on in-flight entertainment repairs that achieve a significant cost savings for our customers. If you are interested in repairing items not on our list, please
contact us
and we'll research it.
In-flight Entertainment FAA Overhaul/Repair Capabilities:
OEM
OEM PART NUMBER
PART NUMBER
DESCRIPTION
Matsushita/Panasonic
R8K8V980901
R8K8V980901.
BACK LIGHT ASSEMBLY- REPAIR
Visit our
FAA Approved Parts
page for more ways to save money!