Short term leases for one-off occasions
From time to time, we have airlines or customers come to us asking about a short term lease - usually due to charter flights. Just for that reason, we keep a pool of players on hand from which we can pull.
How it works
We try to keep it simple. Here's the basic process:
We'll send you a brief questionnaire and then prepare a quote
After reviewing the quote, just sign and return
We'll then assign a dedicated account manager and coordinate all of the logistics with your operations team
Your passengers rejoice upon boarding and seeing how thoughtful you've been
After the flights, we'll follow-up with you to see how things went
Simple enough.
A few guidelines
We try to be as flexible as possible but obviously, we have a few requirements.
We need at least four weeks notice
The content set is somewhat standardized to expedite the process
Payment terms are flexible
Check out a brief success story from Sun Country on how we have helped with its charter operations.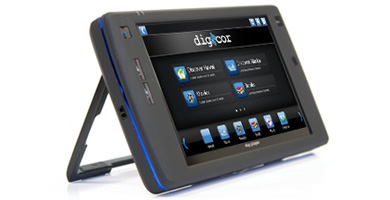 digEplayer L7 Information
Hours and hours of content pre-loaded
Over 18 hours of battery life on a single charge
Small, lightweight design easily fits on tray table