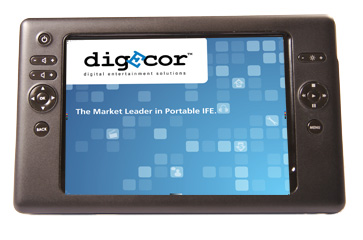 digEplayer XLP
Long lasting encased in sleek style
The digEplayer products are all about flexibility. We have taken the XT platform and extended it to provide additional battery life for those that need it. Adding to our respected family of products, the digEplayer XLP (extra long play) allows for 16 hours of continuous video playback!

Building on the proven architecture and success of the digEplayer XT, the XLP elevates your entertainment offering through a captivating viewing experience. Upgrading to an LED backlit display, the screen is more power efficient, lighter, and has a more brilliant display. With the addition of an elegant black exterior, the screen colors appear more vibrant, entertaining your customers better than ever.

The XLP has all of the great features of the XT such as the impressive 8-inch screen which delivers crisp, clear text and graphics, two independently controlled audio jacks for easy listening, and integrated credit card swipe for paid rentals or purchases.

Talk to a representative today to find out why Frost & Sullivan ranked digEcor as number one in the portable IFE industry!