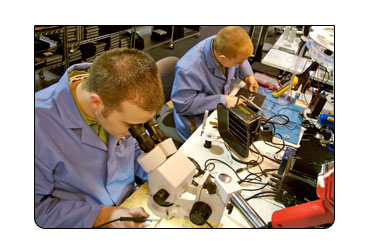 Repair Services
Experience peace of mind.
With each sale or lease of the digEplayer XT, we offer a variety of options for service and maintenance agreements. We firmly stand by the quality and reliability of our products. As with any computer or advanced piece of electronics, normal wear and tear from being handled over a long period of time requires general upkeep.

Our repair and maintenance agreements range from a manufacturer's warranty that covers all manufacturing defects to accident protection. Be assured, our teams are well trained to address even the most complex repair issues to ensure that you have your players when you need them in the repair state that you expect them.
We can repair more than just our players.
Not only do we offer repair services for our own products, but our resources and industry connections allow us to repair and service products by other companies. We also distribute IFE related PMA parts.

Visit the Repair Services page to find out more information!